ABOUT SD CONCEPT ENGINEERING
THE TEAM
Built on attention to detail and a love to design
Starting off as a husband-and-wife team in 1994, Scott and Wendy took their love for all things automotive and set out to build a company based on innovation and a desire to provide customers with new and reliable performance products. As the years progressed, the facility grew to provide all the services necessary to build and tune a performance vehicle from front to back all under one roof.

Over the years, SDCE has brought in a handful of employees that have utilized their skills and expertise to meet the needs of our ever-expanding customer base. We are grateful for each and every person that has helped us to evolve to where we are today. Here is our current team:
Scott Dickinson
One conversation with Scott and you will quickly see he's passionate about his craft and the need to leave his mark on the performance automotive industry is deeply ingrained.

His roles here are: overseeing the shop and projects, engine building, head porting, tuning and programming on engine and chassis dyno, track side tuning, chassis/suspension set up and new product development.
Wendy Dickinson
If you call, email, stop by or message through any of SDCE's media outlets, you'll likely speak with Wendy who handles answering general questions and scheduling all customer appointments. When she's not talking with customers, she's updating our social media accounts, sending updates to keep customers informed, overseeing accounts payable & receivable, and all other necessary administrative tasks.
Lindsey Dickinson
Growing up, Lindsey spent much of her childhood playing in the shop. Fast forward 20 years and she is now an active part of the Office team. She answers phones, greets customers, procures parts, updates customer's weekly work orders, handles shipping and receiving, and takes care of any other day to day office tasks to help keep things running efficiently.
Zack Hyland
Since 2013, Zack brings his attention to detail to every project he works on. He is an extremely talented welder and fabricator. His main tasks are exhaust, roll cage, header fabrication and other miscellaneous sheet metal work.

Zack is responsible for computerized machining operations such as CAD design, CAM programming and the CNC set-up and machining of our own AFI/SDCE products that we produce in-house. His skill set also includes electrical wiring, fuel plumbing, general auto repairs and running the manual machines as well as helping with chassis and suspension set up at the track.
Dan Young
Joining the SD team in 2019, Dan brings a get-it-done approach to everything he does. He is our go-to guy for all general maintenance, diagnostic & repair. He handles most of the engine removals & re-installs in addition to supercharger, EFI & exhaust installs. He is Scott's Sous Chef for engine builds, washing parts and prepping them for Scott to work his magic.
The legendary car that launched
SD Concepts
Our 1973 Dodge Challenger has been with us from our humble beginnings in 1994. In many ways, this car has helped us to grow personally as well as professionally, becoming the face of the company.

As SDCE's first official project car, the Chally was a test mule for countless innovations such as our supercharger kits for small block and big block Mopars custom intake manifolds and our 4L80E Mopar swap. Back in the day, this car was considered one of the first 1000HP street cars.

Our beloved Chally is still one of several work horses in our fleet of cars and trucks. We continue to use it for prototyping and testing our Mopar products and ideas as well as for further honing in on our fabrication and tuning skills.
1973 Dodge Challenger
Low Deck Indy aluminum block, 401 ci

2001 vintage D3M ProCharger still going strong!

GM 4L80E tranny

7 second street car

Tour THE SHOP
Done Once, Done Right, Done All Under One Roof
28 years ago, SD Concept Engineering, Inc (SDCE or SD Concepts) started out like many other gear heads working out of their garage. As time passed and the customer base grew, a larger work area was needed. We expanded to renting 1500 square feet of garage space in Warwick and that was "home" for about 10 years.

In 2005, bursting at the seams, and needing even more space, Scott and Wendy stepped up again, purchasing a 3600 sq ft commercial building in West Warwick. Plagued with flooding during the 7 years at this property, there were hard lessons and plenty of struggles.

Pulling themselves up by the bootstraps, they figured out how to upgrade once more to our current building. SDCE's facility is now housed in a 7500 sq ft commercial building located in East Providence, RI. The service bays, dyno rooms, work machining & fabrication centers, storage and office space have been carefully designed and laid out, enabling us to work efficiently on multiple types of projects in dedicated work zones.
A view from underneath the dyno deck of our Land & Sea 30" chassis dyno inertia roller
WORK BAYS - We have 3 lift bays plus an extra bay for long term projects, and one storage bay where the Challenger is usually tucked when not in use
ENGINE DYNO ROOM - Fresh engine builds get broken in, dialed in and rigorously tested on our Land and Sea Engine Dyno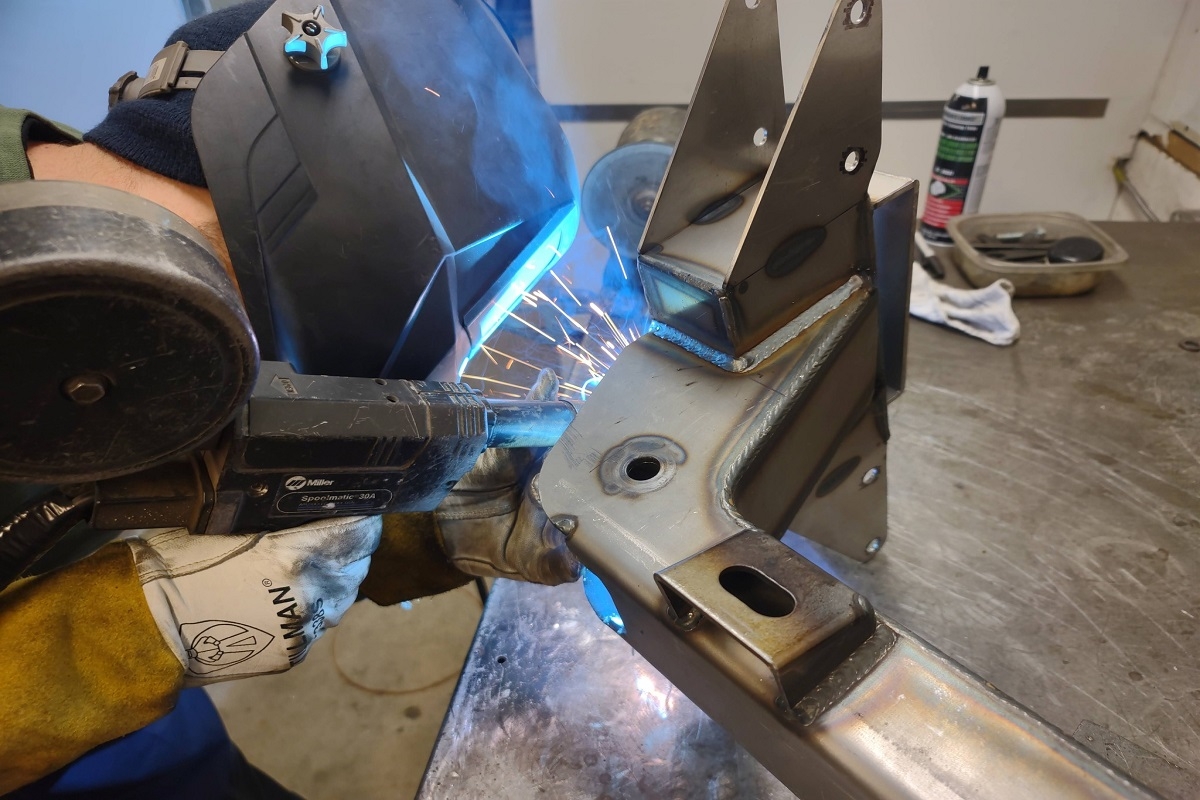 FABRICATION AREA - Cutting, grinding and welding happen in this corner of the shop!
MACHINE SHOP - Our manual Bridgeport milling machines get used on a daily basis. Here Scott is using it to install main caps in Carl's LT engine
MACHINE SHOP - Our machine shop consists of several manual Bridgeports, a manual lathe and our CNC milling machine
OUR CHASSIS DYNO - Carl's 1967 Chevy Corvette 327ci small block produced 367HP and 347LBFT TQ with a 700 vacuum secondary carb
WORK BAYS - Dan is prepping a Dodge Hemi engine to remarry in the chassis of a Jeep Grand Cherokee
ENGINE DYNO - Scott is setting up a Mopar 360cid Magnum motor on the engine dyno for break-in, retorque and peak torque and horsepower testing
Previous
Next
Main Shop/Fabrication Area
Our main work space consists of three service bays with lifts. In between two of the lift bays we have a separate open bay for the "box car" builds or the long-term builds that require a lot of custom fabrication. The third lift bay has a 4-post lift that is "true and square" for setting up suspensions and installing roll cages. The fabrication corner has the tubing bender, welders, assorted cutting and grinding tools and the pan break for bending sheet metal. For added storage, there is a rack system in front of the third lift that is a second story over the fabrication corner where the Challenger is stored for the winter.
Engine Assembly Room
Centrally located in the building and away from the rest of the shop, our engine assembly room is organized with all of the tools needed to efficiently assemble an engine. The room is temperate, assuring that all tolerances and sizes stay within spec. All steps of engine building are done in-house with the exception of balancing the rotating assemblies , boring, honing and decking the blocks.
Engine Dyno
Our Land and Sea dual rotor water brake Engine Dyno is tucked inside a steel shipping container within the building as an added layer of safety, separating it from the rest of the shop. A valuable asset to our arsenal of tools, we calibrate our dyno 2-3 times a year to ensure our data is accurate.

Our engine dyno room is fully equipped with a complete fuel system, full 3" dual exhaust with an "X" (or we can use customer supplied full exhaust to get the most accurate "real world" data prior to getting your engine in your chassis.) and the air flow and ventilation is set up to test in real world conditions. The evacuation system is a huge free flowing exhaust chamber vented to the outside. The air intake is barometrically neutral and the temperature of the room can be controlled so we can duplicate summer temps even on the coldest winter days.

Having an engine on the dyno makes quick work of breaking it in. It also allows us the ability to retorque all nuts and bolts, address any leaks or issues, set valve lash and set rocker geometry efficiently. Testing different parts to see where any improvements can be had is also another great benefit of the engine dyno. Over the years we've collected a lot of data swapping out intake manifolds, carburetors, headers, etc. to see which parts combinations are best suited for each engine build.
Chassis Dyno Room
Our Land and Sea chassis dyno is a drive on balanced 30" diameter inertia-only roller with machined-in traction grooves . While the dyno is good to check what a vehicle's peak horsepower and torque numbers are, we use it in many other ways as well. Having this tool means we can safely program and tune your vehicle in a controlled environment with all the data needed at our fingertips. We do not have to worry about traffic or weather conditions.

The dyno is also an invaluable tool for running drive cycles to clearing monitors so your vehicle can pass RI or MA state inspection. Some of the protocols outlined by the car manufacturers to test monitors can be tricky to do during normal driving. Again, being in a controlled environment without traffic, red lights or stop signs, we have the ability to hold the vehicle under the specific conditions needed to ensure the car's ecm can perform the monitor test. We can dyno most rear wheel drive or front wheel drive vehicles. The dual fresh air ventilation system is designed to swiftly dispense any exhaust in the room .
Machine Shop
On site we currently have two manual Bridgeport milling machines, a Milltronics CNC milling machine and a manual lathe. Our manual milling machines get used on a daily basis performing a multitude of tasks from simply skimming a part that's slightly oversized to installing main caps on an engine block or doing head work. The lathe is also an invaluable asset for making spacers, skimming and cutting intake and exhaust valves, clearancing pullies, etc. Our Milltronics CNC is put to use for fabricating many of our own SDCE/AFI branded parts such as our valve covers , supercharger brackets, accessory brackets and intake manifolds, trans pan pickups and bell housing adapters.
Office / Showroom
The front entrance to the shop will bring you in to our main show room where you will be greeted by either the shop dogs , Wendy or Lindsey. When you bring a vehicle in for a chassis dyno appointment this is also where you will be able to safely watch your vehicle on the dyno. We keep many parts in stock for in-house use or retail sale such as fittings, fuel line, gaskets, oil, filters, spark plugs, plug wires, air filters, wheels spacers, screws & lugnuts, and numerous other necessary sundries.